by Tamra Testerman, Taos News Tempo, Visual Art section, Sept. 23, 2021 –
Taos artist Ronald Davis is "mercurial. He is very eccentric. He doesn't talk to writers. Email him," wrote art critic Dave Hickey in his 2015 essay, Ronald Davis Is Not Doing What You're Seeing. "Since the art world is heavily front-loaded, there is a good chance that you don't know Ronald Davis' artworks, and, if you don't, you should. He is part of a change that altered the ontology of the art world, and the wheel is coming round again."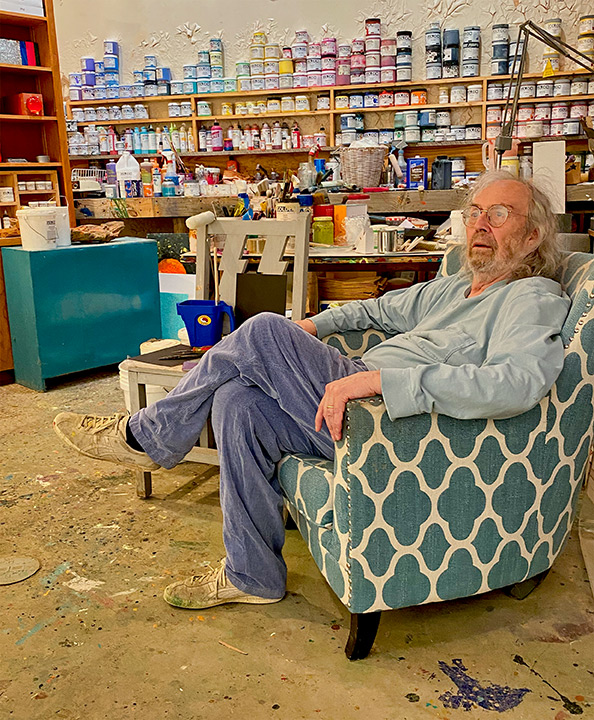 On Labor Day, I called Ronald Davis and got lucky. We talked for close to an hour about things. Things like quantum entanglement, the artist as shaman, Dennis Hopper ("talented photographer"), the battery life on his pacemaker ("12 years"), his ex ("a famous screenwriter in Hollywood"), what exactly is an illusion, a delusion, a mirage? and climate change. "We're doomed."
The conversation began around Cheyenne, Wyoming, a place we both lived as children. Most summers since 1897, Cheyenne is home to the biggest outdoor rodeo in the world. I rode a quarter horse named Rascal in the Cheyenne Frontier Days Parade. Davis's father, Joe Davis, set up a Coca-Cola stand at his gas station along the parade route. "There were no off-ramps on the parade route, so the Coke stand did well."
A childhood in Wyoming can be idyllic. Bleak winters when the snow drifts over the roof and you tunnel out. Fly-fishing for rainbows on the Snake River, hunting for arrowheads in the granite gravel at Vedauwoo. Given the 30-year age difference, our paths never crossed on the Frontier Day parade route, but Wyoming leaves its mark on your soul. And Cheyenne, a small town stuck in a time warp, had just enough backwoods isolation to launch a young man born with big ideas into the art world.
Ronald Davis was born in 1937 in Santa Monica. His family moved soon after to Cheyenne. Inspired by Jackson Pollock, also from Wyoming, he left the childhood prairies for the west coast after working in sheet metal for a few years, and a brief stint at the University of Wyoming.
He attended the San Francisco Art Institute in the early '60s. During this time, Davis painted his Dodecagons, large 12-angled pieces of resin, polyester, and fiberglass, "…the greatest series of abstract objects made in the United States in the 20th century.  – Dave Hickey"
In 1965 Davis met Nicholas Wilder, an American art dealer who represented (among many others) Agnes Martin, David Hockney, and Cy Twombly. Wilder catapulted Davis's career into the stratosphere.
Two years after they met, there was the first of many exhibitions in New York, first at Tibor de Nagy, then at Leo Castelli. Out of these exhibitions, he sold paintings to the Museum of Modern Art, The Tate Gallery London, the Los Angeles County Museum, The San Francisco Museum of Art, The Chicago Museum of Art. He was included in Documenta '68 in Kassel, Germany, and in the US pavilion of the Venice Biennale in '72.
All this happened a little over a decade after leaving the prairies of Wyoming. By art world standards, Davis was an overnight success and continued to bask in the limelight with all the luxuries and liabilities of fame for another 20 years.
Davis encountered Taos on a road trip with a friend. He had been burning the candle at both ends in a Malibu compound built by Frank Gehry, designed around one of Davis's models. The compound launched Gehry's career and turned Davis's life into a media circus, an architecture student's Petri dish – a sensation, not a sanctuary to make art.
Things were getting complicated by a complicated relationship, and things became untenable when Davis got sober. "In 1990, I left the freeways of LA behind and disengaged, mostly. I moved to New Mexico, where I built a group of domed polygonal buildings I designed with architect Dennis Holloway, based on the Navajo hogan dwelling."
Davis is an artist with an acute sense of his own mortality and the 'artist as shaman,' one who embodies the characteristics of the shaman to be used as a vehicle in which to explore the unknown. At a metaphorical level, the experiential nature of hard-edge painting in its objectification to existence outside the natural world, at the same time being of this world, resembles (in theory) the shamanistic techniques of transcendence.
"I am in a black box in time and space, and I know not what is around me. I catch a wave that's going on in the universe. To be true to my art, I have to focus to make things unseeable, seeable. Illusions are real, as real as anything… it's not a delusion, a mirage. There are color spectrums that have that here, old fashioned constructivism. What color and where to put it is the problem. Over time, I have gotten very good at it. Lots of practice."
Before we hung up, I wished Ronald a happy Labor Day. We both laughed, "it's all labor, isn't it?"
203 Fine Art, 1335 Gusdorf Road, represents Ronald Davis. There is an opening scheduled Saturday (Sept. 25, 2021) titled Ronald Davis: Seven Decades, a mini-retrospective of work featuring significant pieces from the 1960s to the present. "The exhibition features a range of work from the artist's oeuvre. It includes artwork which has never been out in the world, as well as legacy works such as the keystone Lemon Yellow from the Dodecagon Series, many others of which are in the permanent collections of major museums, emphasizing Davis's important contribution to the American art scene.
For more information, visit 203's website, www.203fineart.com/ronald-davis . For more information about Ronald Davis, visit this and the artist's other websites: www.irondavis.com and www.ronalddavisart.com.