I woke up one morning in 2002 with a ripe stream-of-consciousness Artist Statement burning in my brain, and it wanted to come out – right now. My wife sat down with me and typed the statement as I spoke it; it came out as one long monologue. I felt it would be good to use excerpts from this statement as a starting place for more storytelling: 
A painting's just gotta look better than the wallpaper.
"My work is comprised of aggressively decorative, meaningless, unidentified floating objects that pretend to be rational. Illusion is my vehicle. Opticality is paramount.
I really had no aspirations to be an artist. It was my third choice. I wanted to be a racer, or possibly a writer or a musician. Mostly a sports car race driver. I blew up an engine and went into a ditch in my twin-cam MG-A once in La Junta, Colorado, and narrowly escaped being creamed by two guys in Porsche 550s going around me at 180 while I was going just 120. I realized I might get killed doing this. That would have been OK at the time, but racing is a rich man's sport, and I couldn't afford it. So I switched to painting.
Later I found out that being an artist is much more dangerous – and just as expensive."
— Ron Davis, 2002, Arroyo Hondo, NM
My Twin-Cam MG-A
The year 1955 saw the introduction of the MGA. With this design the MG broke new grounds. After its predecessors MG TD and MG TF, which were largely based on the pre-war MG TB, it was a roadster with a very modern sporty design. Like its predecessors, the MGA was a great success and, like before, the greater part was sold in America. Until 1959, the MGA was equipped with a 1459 cc four-cylinder engine. From that year, the car was fitted with a 1588 cc four-cylinder. A 1622 cc four-cylinder engine replaced the 1588 cc. engine in 1961. The early MGA versions had very good drum brakes until 1959, but after that year, the MG A was equipped with disc brakes on the front wheels. April 1958 saw the introduction of a very special MGA; the Twin Cam. This MGA featured a special twin cam engine fitted with double overhead camshafts. The Twin Cam engine was based upon the standard 1500 B-series engine but extensively up rated and engineered. The engine block was fabricated of cast iron and the cylinder head was made of aluminium. The high revving Twin Cam engine delivered a power output of 108 bhp., 40 bhp more than the standard 1500 engine which delivered 68 bhp. Not only the engine was special, the car was also fitted with disc brakes all round and special Twin Cam disk wheels with central locking eared wheel nuts. Between 1958 and 1960 1788 MGA Twin Cam roadster models were build. The coupe is scarcer; only 323 units left the factory. The last MGA, a 1600 Mk II left the factory gate in May 1962. The MGA was succeeded by the MGB.
Photos of the MG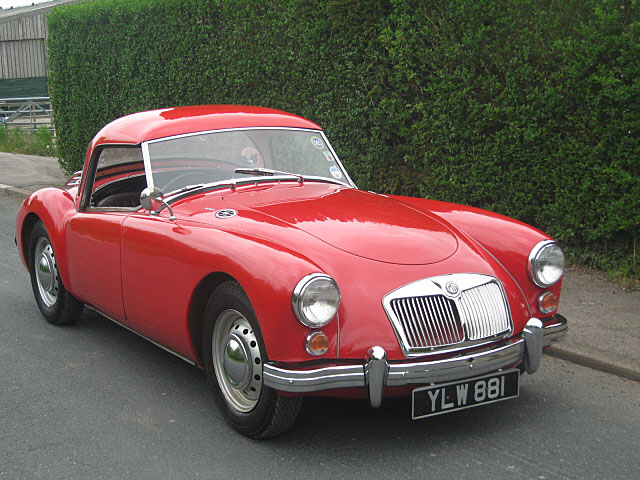 Technical data
Four cylinder in-line engine (Twin Cam -DOHC)

Cylinder capacity: 1588 cc.

Capacity: 108 bhp. at 6700 rpm.

Top-speed: 180 km/h.

Gearbox: 4-speed, manual

Brakes: disc brakes all round

Weight: 960 kg.nt goes here
Information courtesy www.classicargarage.com
Photos courtesy www.classicandsportscar.ltd.uk