Pacific Standard Time: Crosscurrents in L.A. Painting and Sculpture
Video: Ronald Davis speaks about his work, June 2011 – 
• Pacific Standard Time: Crosscurrents in L.A. Painting and Sculpture, 1950–1970 –
J. Paul Getty Museum, Los Angeles, CA – October 1, 2011–February 5, 2012 –
http://www.getty.edu/pacificstandardtime/exhibitions-and-events/crosscurrents/
• Pacific Standard Time: Crosscurrents in L.A. Painting and Sculpture, 1950–1970 –
Walter Gropius Bau, Berlin, Germany, March 15 – June 10, 2012 – 
Organized by the Getty Research Institute in collaboration with the J. Paul Getty Museum. The exhibition traveled to the Martin-Gropius-Bau, Berlin, March 15–June 10, 2012. The exhibition featured an exemplary collection of works—borrowed from preeminent national and international collections—that offered a fundamental reappraisal and reinterpretation of postwar Los Angeles art.
http://www.berlinerfestspiele.de/en/aktuell/festivals/11_gropiusbau/mgb_ausstellungsvorschau/mgb_04_komm_Ausstell_ProgrammlisteDetailSeite_29334.php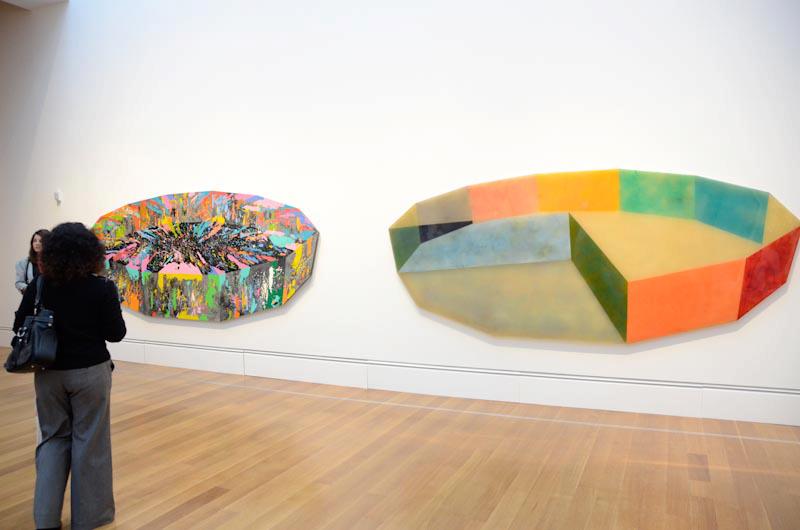 Ronald Davis: Black Tear, 1969, left. Vector, 1968 at right.
Installation at J. Paul Getty Museum, Los Angeles, CA, 10/2011 through 2/2012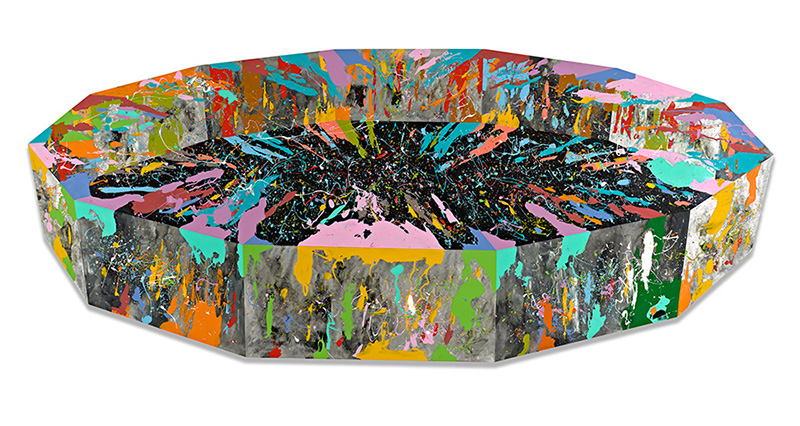 Ronald Davis: Black Tear, 1969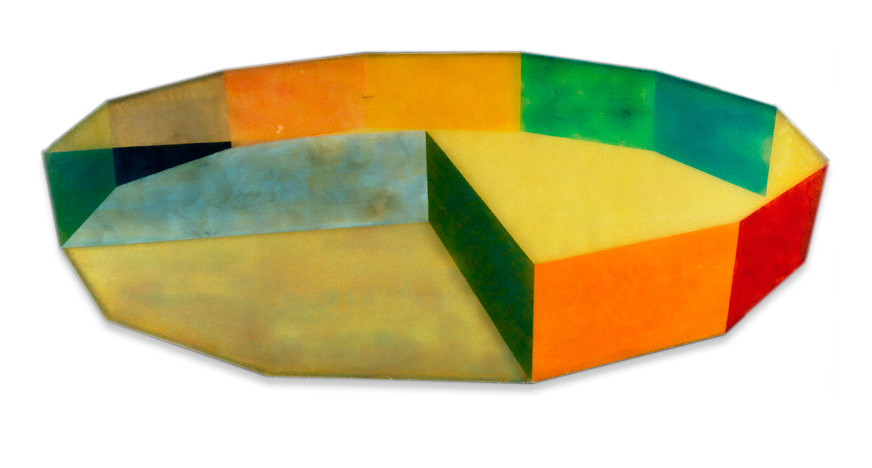 Ronald Davis: Vector, 1968
• Ronald Davis at the J. Paul Getty Museum, Los Angeles, CA – 
October, 2011 – 
Ronald Davis was born in 1937 in Santa Monica, California, but grew up in Wyoming. In the early 1960s, he attended the San Francisco Art Institute where he painted abstract expressionist canvases. In 1964 he moved to Los Angeles where he had his first solo exhibition at the Nicholas Wilder Gallery. While working in Los Angeles, he developed his technique of using colored polyester resins and fiberglass to create shaped, geometric canvases. The bold colors and allover patterning in these works suggest Davis's abstract expressionist roots and contribute to their illusion of deep space and volume.
• Pacific Standard Time: Selections from the Frederick R. Weisman Art Foundation – 
Frederick R. Weisman Museum of Art, Pepperdine University California Art, Malibu, CA – 
August 27–December 11, 2011 – 
Since the 1960s California has emerged as a center for contemporary art that rivals New York in its accomplishments and innovation. Frederick R. Weisman was a pioneering collector whose rise as an important patron of the arts paralleled the emergence of the contemporary art scene in Los Angeles. He began collecting both international art and art from Los Angeles in the mid-1950s, and counted many of the city's top artists as his close friends, building a collection that reflects these personal relationships. He was an early supporter of many of the artists that rose to prominence under the legendary Ferus Gallery, established by Walter Hopps, Ed Kienholz and later, Irving Blum. At the time Hopps was an innovative young curator who was tuned in to the idiosyncratic styles of Los Angeles artists, which had developed from isolation during the post-war period. As a result, LA artists were inspired by their daily lives and surroundings—the local terrain, vibrant sun, beautiful sunsets, blue skies, surfboards, and fast, flashy cars. Soon new art movements were created (such as Light and Space, and Finish Fetish), and the Cool School was born. But it would be decades later before the rest of the world recognized the importance of these artists and movements. In keeping with Frederick Weisman's tradition of supporting local artists, the Frederick R. Weisman Art Foundation has continued to amass a substantial collection of Los Angeles and California art.
http://arts.pepperdine.edu/museum/california-art.htm
• Pacific Standard Time: Best Kept Secret: UCI and the Development of Contemporary Art in Southern California, 1964-1971 – 
Laguna Art Museum, CA – October 30, 2011–January 22, 2012 – 
From the inception of its art department through the late 1960s, UC Irvine harbored a group of the most advanced artists, students and art writers in California, if not outside of New York. Best Kept Secret will exhibit the work of significant artists from this concise period (1964-1971), including John Coplans, Philip Leider, Barbara Rose, Ronald Davis, Tony DeLap, John McCracken, Vija Celmins, Robert Irwin, Craig Kauffman, Bruce Nauman, Michael Asher, Chris Burden, Jay McCafferty, Alexis Smith, James Turrell and Frank Stella, drawing connections among their works and contextualizing them within California and the rest of the nation. Best Kept Secret will also examine the impact of UCI on the roots of the Finish Fetish and Light and Space movements, performance, video, and conceptualism, and on the development of the art programs at the University of California, San Diego and the California Institute of the Arts.
http://lagunaartmuseum.org/best-kept-secret
• Pacific Standard Time: Proof: The Rise of Printmaking in Southern California – 
Norton Simon Museum of Art, Pasadena, CA – October 1, 2011–April 2, 2012 – 
The first goal enumerated upon the founding of the Tamarind Lithography Workshop in Los Angeles in 1960 was to 'create a pool of master artisan-printers in the United States' in an effort to revive the method of fine art lithography. With those words, and the dedication to create a workshop that would educate printers, artists, curators, and collectors alike, Tamarind sparked a renaissance in the graphic arts—one that spread well beyond Los Angeles and the medium of lithography—establishing and legitimizing all methods of printmaking as viable and valuable forms of art making, even for the most avant-garde of post-war artists. Proof will explore the significance of printmaking and its new possibilities as first re-envisioned in post-war Southern California. Drawing on the extensive collection of the Norton Simon Museum with a few select loans, the exhibition will include works by the local founders of this movement such as John Altoon, Garo Antreasian, Sam Francis, Ed Moses, Ken Price, Ed Ruscha and June Wayne, as well as those who made their way to print specifically in Los Angeles, such as Joseph Albers, Bruce Conner, Lee Mullican, Louise Nevelson, Claes Oldenburg, and Robert Rauschenberg.
http://www.nortonsimon.org/proof-the-rise-of-printmaking-in-southern-california
• Pacific Standard Time: Greetings from L.A.: Artists and Publics, 1950–1980 – 
Getty Research Institute, Los Angeles, CA – Oct 1, 2011-Feb 5, 2012 – 
Beginning in the 1950s, Southern California saw the emergence of newly diverse audiences for art. While gallerists cultivated collectors, Beat artists Wallace Berman and George Herms distributed handcrafted works among friends. Others, including Chris Burden, exploited the mass media to circulate their work. Art schools became innovative forums for artists such as Judy Chicago and John Baldessari. Social and political movements that championed peace and feminism mobilized artists to take their messages to the streets. Drawn from the Getty Research Institute's archives of Los Angeles art, this exhibition features photographs, ephemera, correspondence, and artwork—many on view for the first time—that reveal how these artists disseminated their works to a broader public.