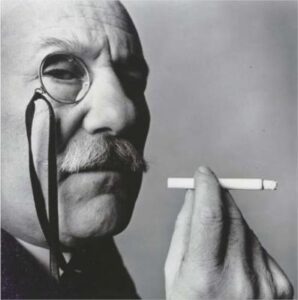 During a trip to Washington, DC in 1967 to attend the Barbara Rose-curated "A New Aesthetic" show at the Washington Gallery of Modern Art, my LA dealer Nicholas Wilder and I took a side trip up to New York.
On that trip, Nicholas arranged for us to have tea with Barnett Newman and his wife Annalee at the Russian Tea Room in Manhattan.  We went with another friend of mine, Bill (San Francisco studiomate and artist Bill Reynolds, who had a New York studio at the time).
We had gotten to the Tea Room early, 2 or 3 o'clock, and the place was nearly empty;  Nick and Bill and I sat there drinking tea, chatting and waiting.  I didn't know anything about high teas or Barnett Newman or the Russian Tea Room!  It was daunting, and I was awed with the anticipation of waiting for Barnett.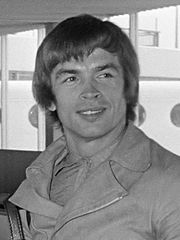 Presently, who came in to have lunch but Rudolf Nureyev!  Yes, the most beautiful man I've ever seen.  He was jaw-dropping.  The waitresses were fluttering around him, serving him a late lunch.  While I'm waiting to meet Barnett Newman!  Pretty exciting for an art student, six years out of art school.  I was thinking, "How did I get here? What am I doing in New York?"
Finally, Barnett came in with Annalee and said, "Let's have the roe, and a round of Russian vodka." It was very exciting to meet Barney. My impression was that he was a very grand man. He had his monocle on, his cracked monocle. We had a large platter of hors d'oeuvres along with more rounds of vodka. I proceeded to get a little drunk. At some point in the discussion, I suggested enthusiastically that we all go down to Max's Kansas City, the iconic, then-trendy art bar of the time. Annalee was trying to take care of Barney and scolded, "Slow down Barney, remember your heart attack!" But he was having none of it. He said, "No, let's go out and talk, and have some more drinks and hang out at Max's Kansas City!" So we took a cab down to Max's, with Barney! In the cab on the way downtown, Barney pointed out the verticals in the New York architecture. He taught me about zips – the difference between a zip and a stripe. And his verticals, his vertical bars with stripes.
I remember Barney was grandly judgmental about the Museum of Modern Art. He said, "How many Pollocks does the MoMA have? Only ONE!" (I don't think MoMA was collecting abstract expressionists seriously at that time; they were still all in Europe, even in 1967. They were focused then mainly on Picasso, and Impressionism.)
Once we got to Max's, I remember sitting in a booth, Barney lecturing — he was talking with Herman Cherry, a second-generation abstract expressionist — along with Nick and myself, and Annalee. Later, at one point I found myself sitting at a noisy back-of-the-bar table, not in the booth this time.  Andy Warhol had come in, and Barnett and Andy were having a conversation back there. They were kind of whispering in each others' ears. I was sitting directly across from them, but with the bar noise, and thanks to the Russian vodka, I didn't hear a word either one of them said. I was still starstruck and overwhelmed, still thinking, "How in the world did I get here?!"
Postscript: Thanks to artist friend Frank Stella's suggestion and the generosity of the Barnett and Annalee Newman Foundation, a few years ago I was given a purchase grant for a large resin work, "Two Thirds Yellow," 1966.  The Foundation gifted it to The Jewish Museum in New York City for their permanent collection. I'm honored to know it will be on view at The Jewish Museum with works by other esteemed grantees. The exhibition runs from March 24, 2023 through October 1.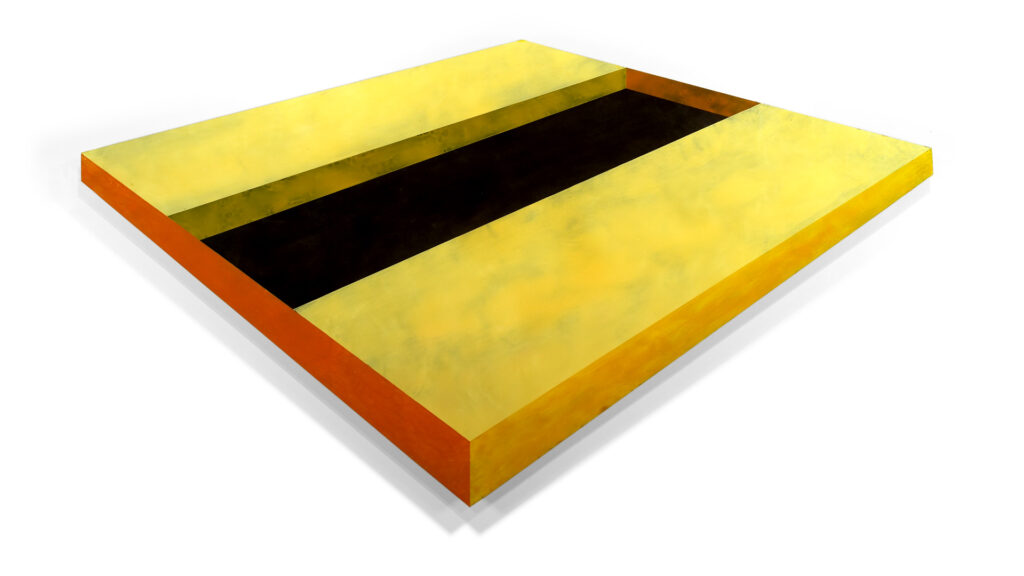 Two-Thirds Yellow, 1966.
72 x 131 inches (shaped), Molded Polyester Resin, Fiberglass, and Wood.
Slab Series (PTG 0038).
Included in my first New York solo show:
Six Slabs, Tibor de Nagy Gallery, NYC, October 1966.
Solo exhibition, Harwood Museum of Art, Taos NM, Fall 2017.
Acquired for the permanent collection of The Jewish Museum, NYC, 2017.