by Ronnie Landfield • 2005 •
The Cause – 
The Museum of Modern Art has reopened for business on 53rd Street between Fifth and Sixth Avenues. The original headquarters in midtown Manhattan has changed, with an impressive new building designed by architect Yoshio Taniguchi and a new presentation of the Modern's unparalleled collection.
I once believed that the Museum of Modern Art embodied all that was culturally important and relevant to the Western world. I realize sadly that the Museum of Modern Art today embodies a culture descending into emptiness. A culture so in love with itself that it bestows the highest honors on those who celebrate and glorify its most superficial and insincere qualities. An institution with a vacuous core, literally and figuratively. MoMA has lost touch with itself, and it appears to be morphing into the mall of up-to-the-minute art. Decadent, perhaps, even corrosive at its core.
The poetry of the building bespeaks a hollow shaft between 53rd and 54th Streets, surrounded by rooms of disenfranchised genius. Gigantic emptiness at the top that  Ellsworth Kelly's 1957 wall piece and James Rosenquist's mural size F-111,1965, just can't fill; in the sense of historical displacement and hysterical confusion everywhere else, this museum has become a vacant specter of its former self.
The Modern was an inspiring institution, the place to see and to learn the history of modern art. The Museum of Modern Art exhibited only the best of the best. When the Modern acquired an artist's work, they acquired the best. The Modern was the place to aspire to become a part of the story if you were an artist. However, nowadays the art it presents in its contemporary galleries appears to reflect the whims of corporate bosses and the interests of powerful investors looking to protect and promote their own positions via the road to high culture. What an opportunity! However, they have traded credibility for popularity, quality for convenience. The new Modern is a new world according to the caprice of the board of trustees and a few curatorial careerists out to reinvent art history. At the bottom of the hill is this spectacular, now hidden history. An impeccable legacy of uncompromised brilliance, embodied in the greatest collection of modernism ever assembled.
This is the fifth incarnation of the Museum of Modern Art on 53rd Street in my lifetime, or since I can remember going there – starting when I was a teenager, living in the Bronx and attending the High School of Art and Design on 57th Street. That was around 1960.
In those days the Museum of Modern Art shared it's current location between 53rd and 54th Streets, with the Whitney Museum of American Art, two great institutions with distinctly different viewpoints about contemporary art. While both celebrated the triumph of American abstract expressionism, the Museum of Modern Art's vast international collection and important design and architecture exhibitions set it apart from the more domestic-oriented Whitney.
As a student I got an awful lot of my art history lessons directly from the Museum of Modern Art's collection. I was far too young to question the museum's choices and assertions; rather I was simply an awestruck visitor, feeling special every time I paid the museum a visit. In 1962-63 I'd visit the museum two or three times a month, taking in as much as I could possibly learn. Of course, in those days the price of admission for a young high school student was more affordable than the price of admission is today. The current price of admission is twenty dollars, which seems prohibitive, especially for young artists.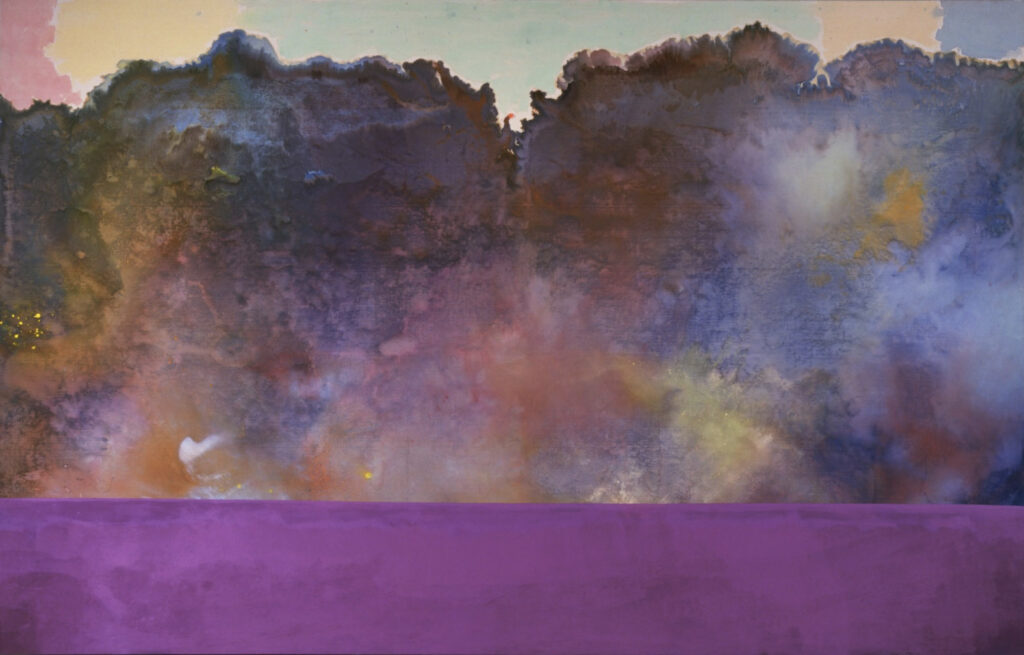 The Museum had absolutely the best Picasso paintings in the world—Guernica, (which was installed at MOMA from 1939 until 1979) Les Demoiselles d'Avignon, Three Musicians, and arguably some of Matisse's best paintings as well, like The Piano Lesson, The Dance, and The Red Studio. However, for me the paintings that most captivated my imagination in those days were the long horizontal Mural by Joan Miró that hung in the lobby for so many years, and Jackson Pollock's Number One (1948) with its sense that anything was possible, through pure feeling, abstract landscape, handprints, and tossed silver skeins of house paint.
My strangest moment at the Museum of Modern Art was also my proudest. In the early spring of 1972 a friend of mine, the playwright Harold Levitt, invited me to meet him for a game of chess at the Modern. We planned to play outside in the sculpture garden. When I arrived, Harold was grinning from ear to ear, and I soon realized why. My painting Diamond Lake was hanging in the lobby on the same wall where Joan Miró's Mural usually hung; I felt humbled and very proud. I had no idea that my painting was hanging at the Modern (and in the lobby), but apparently Harold had seen it the day before and he wanted to surprise me, so he invited me to meet him there for a chess game.
On the lobby wall opposite Diamond Lake (a gift to the Museum from the Philip Johnson collection) was a Peter Young dot painting (also a gift from the Johnson collection). Peter,who was a friend of mine, was staying with me at the time, visiting from the West Coast. The next day Peter Young and I went to the museum to see our paintings. We were having lunch in the cafeteria when a matronly woman rushed over to our table demanding that we leave immediately. She said that the museum should not have admitted us with our long hair and sloppy dress. Peter and I looked at each other – I mean both of us were very proud that our paintings were hanging inside the museum – just on the other side of the glass walls so close we could almost see the two paintings from where we sat having lunch, but we didn't know what to say to this absurd woman. I finally told her that we each had paintings that she could see if she were to turn around. She eventually went away, although she refused to believe that we were painters. I will never forget that strange incident.
The Flagship Exhibition:
The new approach is off-putting, and certainly not warm or inviting. An enormous empty parking garage, airplane hangar size, a huge toothache, a new bookstore, a full city block walk through lobby, an Ellsworth Kelly in the lobby, a few stairs with Balzac. Up the stairs and around the bend and the show begins. Escalators and well-marked floors allow visitors to navigate the new Modern relatively easily, once you get the hang of it. The elevators are slow but useful. The building reminded me of the Guggenheim every time I looked up or down, depending on where I was standing. The Museum of Modern Art has gotten bigger, but it seems empty, perhaps because what was once an intimate exchange between the art and the public has become a painful, alienating experience.
I don't think the building works: it is too big and frankly its hollow core wastes too much valuable space. Such scale is tricky because the art competes with the vastness of the building itself. Only a very few works from the collection can stand up to the building's scale. Unfortunately, and perhaps contradictorily, the building intrudes on practically everything. There is a sense that everything is temporary now, nothing is permanent.As proof, note the re-installation of Henri Matisse's The Dance (1909) in a stairwell, the painting, once a central highlight, is pushed to the periphery. That Matisse's The Dance is hung in a stairwell would lead any reasonable person to interpret this re-installation as a serious shot across the bow to abstract painting from the second half of the twentieth century and quality in painting in general. While another version of The Dance was originally commissioned by Sergei Shchukin for a stairwell in Shchukin's Russian mansion, I think it stretches the imagination a little too far to see this great painting installed in the new MoMA's stairwell.
Although it doesn't make any historical sense (but it does look good) and in an Apollonian versus Dionysian sense perhaps it makes an esoteric point, the curators chose to place Barnett Newman's sculpture Broken Obelisk(1967), in juxtaposition with Claude Monet's mural-sized Water Lilies(ca.1921-25) across from paintings by Willem de Kooning, Brice Marden, and Jasper Johns. Talk about license taken with history, confusion reigns.Much of the important painting and sculpture from the collection has been left in storage.
While many important abstract expressionist painters and sculptors were represented with small minor works or are simply left out altogether, abstract expressionism as a movement is reasonably presented. Jackson Pollock's room looks particularly vibrant and healthy, as does Barnett Newman's masterpiece Vir Heroicus Sublimis (1950-1951), (one of the few paintings that works with the scale of the building). Willem de Kooning's Woman 1, 1950-1952 and a blue abstract landscape from the early sixties (my favorite period of his work), looked really good hanging side by side. Mark Rothko was well represented as were Robert Rauschenberg, Cy Twombly, and Jasper Johns. Color Field painting was represented only by a single Morris Louis, an early Helen Frankenthaler, and a Kenneth Noland target painting, while lyrical abstraction is left out altogether. But,in fact, there were so many artists left out in every category that I couldn't begin to name them because the list would be endless. Recent painting is pushed to the periphery.In a gallery that feels like an afterthought, there are two beautiful paintings by Richard Diebenkorn, a Howard Hodgkin, and a stunning Milton Avery.
The masterpieces have been reconfigured: Cézanne, Monet, Mondrian, Picasso, Matisse, Kandinsky, Braque, Klee, Miró, Van Gogh, Bonnard, Stuart Davis, Gauguin, Degas, Derain, Malevich, Leger, Gorky, Duchamp, Magritte, De Chirico, O'Keefe, Rodin, David Smith, Seurat, and so many others in a new set of galleries with new positions and juxtapositions. Happily, the scale of these galleries works with the scale of the paintings. Once again, it is a welcome and enjoyable encounter to become reacquainted with this part of MoMA's stunning collection, albeit in a new setting. Henri Matisse is given his own gallery and Pablo Picasso is gloriously represented by what seems like dozens of his very best work. Vincent Van Gogh, Paul Cézanne, and Piet Mondrian stand out particularly in my mind with multiple works from the permanent collection.
The real curatorial agenda, though, seems to be rewriting recent history, or asserting what isn't true about the art of our time. Tell a lie often and loudly enough and it becomes the truth – but I don't think so. American abstract painting since 1965 is badly misrepresented with scores of important artists' work missing or to put it plainly–suppressed. Contemporary realism is basically ignored, and except for pop art and its surrealist and dada roots, there isn't much to see in that direction. Minimalism, conceptual art, post-minimalism, pop art, video, and installation art is very well represented. Photography is a sparse presence, and considering the depth and brilliance of the museum's collection, this was surprising.
We are presented with a basic misunderstanding of contemporary art after 1965, a re-configuration of art history that reflects the current texts and a prevailing academic mindset. A biased point of view, a dogmatic and prejudiced point of view against the sensual in favor of the cerebral, partially borne from an Oedipal, almost pathological, response to Clement Greenberg. An entire generation of American painters has had their work suppressed for decades partially as a reaction against Greenbergian formalism. The result will create a massive and troubling void in the public's knowledge of recent art history. The sad truth is that many of us were hopeful that the new MoMA would finally explicate the entire contemporary picture. Sadly though, they give us a censored picture of the scene. The real issue is not whom the curators have selected to exhibit – but what and whom they have excluded. I probably could write a volume just of names of artists left outside of this exhibition and why.
The late visionary Kirk Varnedoe, former curator of painting and sculpture at the Modern, wrote me a letter in 1990, saying that he hoped that when the Modern finally got more space, many stored works in the permanent collection would be re-hung. Varnedoe's comments reflected common sense and a genuine regard for contemporary art in all its manifestations—not simply what was regarded as the new hot commodity of the moment. Unfortunately, the Modern's new building doesn't provide much new exhibition space, unless you count the empty volume in the central shaft and the gigantic and inaccessible blank walls.
The Effect
What will the curators do with the unparalleled opportunities such a vast space offers? With so much great art in the collection, and with so much great art that hasn't been seen for such a long time—a real challenge is posed. I'd like to see a series of exhibitions of works from the permanent collection, decade by decade, from the museum's inception in 1929 through the present day. Exhibitions of historical and educational importance might elucidate important evolutionary tributaries of nearly eighty years. One example would be an exhibition that traces the emergence of and shows the interrelationship between important movements such as abstract expressionism, hard-edge painting, lyrical abstraction, minimalism, and conceptual art. Can the Modern take new risks to uncover and elucidate the art of our time, or will they play it safe, going for what is crowd-pleasing and popular? Is the museum up to the task of renewing its place on the cutting edge, or has the Modern backed away from risk? I hope the Museum of Modern Art courageously takes up the cause again, just as I hope that artists continue to pursue visions beyond the vanguards of established culture.
Hopefully, in the coming years most of us will fall in love with the Museum of Modern Art again. I am deeply honored to be included in the Modern's permanent collection. I am also profoundly grateful to my first patron, the late architect Philip Johnson whose sculpture garden at MoMA still represents the zenith of high quality urban design. I admire the good things the Museum of Modern Art has exhibited over the years. I value what I learned from my visits to the museum, especially back in the sixties.  I hope the Modern will show more of its brilliant, powerful collection, and I hope the museum's point of view broadens to include new and fresh insights on the art of our time. Conventional wisdom and the straight and narrow are sometimes not the only way to travel.
Creating my paintings has been the raison d'etre for most of my adult life. I believe that is why I am here – and to live my life as best as I can.  After forty-odd years of painting, I've learned to trust my aesthetic instincts and to heed my own judgments. Talking with people, reading, and mostly from working in my studio, I know that art can change the universe and that art matters. What an important and influential institution like the Museum of Modern Art does and doesn't do affects all of us. The effect can be devastatingly destructive or as constructive as paradise on earth. Where the power lies is somewhere between the knowable truth and the unknown chaos of nature and time. I know that while the culture depends on places like the Museum of Modern Art, no place is sacred, no one is exempt, and nothing is constant on this path except perhaps change.  Hopefully independence, common sense and discerning intelligence will prevail. I wish ultimately that that those qualities prevail, and that they re-hang Matisse's Dance on a more prominent wall.
— Ronnie Landfield, New York City
January 15, 2005
Ronnie Landfield
Diamond Lake